¡Las son de
En un principio cuando comenzamos con el planteamiento de crear una pala inteligente que obtuviera las métricas del jugador, nos dimos cuenta que uno de los mayores problemas no era unicamente el desarrollo tecnológico, sino fabricar una pala que que tuviese Por lo que planeamos un método para desarrollarla:
The are of
At first when we started with the approach of creating a smart racket that would obtain the player's metrics, we realized that one of the biggest problems was not only technological development, but rather manufacturing a racket that had So we plan a method to develop it: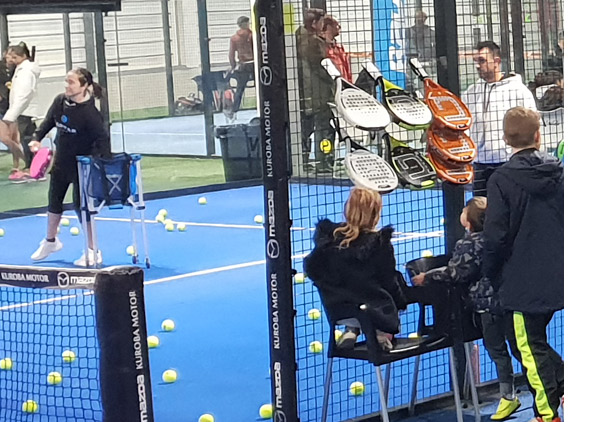 JUGABILIDAD: para encontrar una pala de máxima eficiencia decidimos realizar, 3 focus group, uno se realizó en invierno y 2 en verano. Se invitaron a 67 jugadores de padel de distintos niveles y recopilamos 27 prototipos de palas de padel de 8 fabricantes nacionales e internacionales. A cada jugador se le propusieron los mismos ejercicios. Una vez finalizados estos, debían responder a un cuestionario con sus impresiones. Tras recopilar los resultados y finalizar el recuento no había una pala diferenciadora, sino que 4 palas habían obtenido puntuaciones muy destacadas sobre el resto, y curiosamente cada una de ellas era preferida por un perfil de juego. Así que decidimos crear una colección con estas 4 palas que engloba a una gran parte de de los gustos en cuanto a jugabilidad de la gran mayoría de jugadores.
DURABILIDAD: el otro aspecto de gran importancia era la resistencia de las palas. Debíamos prolongar su vida de juego, por lo que nos pusimos manos a la obra con el fabricante, sin olvidar la otra principal premisa, no podía afectar a la jugabilidad de las palas. Este punto lo resolvimos mejorando los habituales refuerzos en puntos de torsión y con una nueva técnica heredada del sector del automovilismo y aeronáutico que incrementa considerablemente de impactos continuados sin aumentar el peso de de la pala y sin trastocar las propiedades de la misma en cuanto a su jugabilidad. Gracias a esta novedad hemos aumentado su durabilidad y doblado la vida util de las palas Gaftaf Sport, comprobandolo con el siguiente método.
Se entregó un modelo de cada pala a distintos jugadores que tuvieran las siguientes características:
Que mantuvieran entrenamientos al menos 2 veces por semana
Que compitieran habitualmente.
Y por último jugadores con remates de gran potencia.
PLAYABILITY:: To find a maximum efficiency racket we decided to carry out 3 focus groups, one was carried out in winter and 2 in summer. 67 paddle tennis players of different levels were invited and we collected 27 prototypes of paddle rackets from 8 national and international manufacturers. Each player was given the same exercises. Once these were completed, they had to answer a questionnaire with their impressions. After collecting the results and finishing the count, there was no differentiating racket, but 4 rackets had obtained very outstanding scores over the rest, and curiously each of them was preferred by a game profile. So we decided to create a collection with these 4 rackets that encompasses a large part of the tastes in terms of playability of the vast majority of players.
DURABILITY: the other aspect of great importance was the strength of the rackets. We had to prolong its game life, so we got down to work with the manufacturer, without forgetting the other main premise, it could not affect the playability of the rackets. We solved this point by improving the usual reinforcements in torsion points and with a new technique inherited from the automotive and aeronautical sector that considerably increases the number of continuous impacts without increasing the weight of the racket and without disturbing its properties in as for its playability. Thanks to this novelty we have increased their durability and doubled the useful life of the Gaftaf Sport rackets, checking it with the following method.
A model of each racket was given to different players who had the following characteristics:
That they keep training at least 2 times a week
That they compete regularly.
And finally, players with powerful shots.
Tras 18 meses de seguimiento y testeos nuestros jugadores constatan que las palas mantenían un magnífico comportamiento y una gran resistencia a pesar de roces, arañazos y golpes.
Satisfechos de la calidad que reúnen estas magníficas palas fabricadas íntegramente en España, que inevitablemente tienen un precio ligeramente mayor sobre el mercado tradicional debido a un aumento de tiempo y dedicación que exige la producción y fabricación de esta colección de palas, pero que lejos de ver un inconveniente en Gaftaf Sport apostamos por ofrecer una selección de palas premium con una calidad sin precedentes.
Al tratarse de un producto premium, GTS incluye en todas las palas una garantía de 6 meses y un plan renove.
Gracias a la calidad comprobada en la colección de palas de GTS podemos presentar MEMORY, una pala inteligente que en su versión no-digital corresponde a la pala Isotop y que se conecta vía bluetooth al app de tu smartphone previamente instalado. Con MEMORY adquirirás un conocimiento sobre tu juego con el que podrás monitorizar evoluciones, rendimientos, historicos y mucho más datos sobre tus partidos de padel.
After 18 months of monitoring and testing, our players confirmed that the rackets maintained magnificent behavior and great resistance despite friction, scratches and blows.
Satisfied with the quality of these magnificent rackets manufactured entirely in Spain, which inevitably have a slightly higher price than the traditional market due to an increase in time and dedication required by the production and manufacture of this collection of rackets, but far from seeing a drawback at Gaftaf Sport we are committed to offering a selection of premium rackets with unprecedented quality.
Being a premium product, GTS includes a 6-month warranty and a renewal plan on all rackets.
Thanks to the proven quality in the collection of GTS rackets we can present MEMORY, a smart racket that in its non-digital version corresponds to the Isotop racket and that connects via Bluetooth to the app on your previously installed smartphone. With MEMORY you will acquire knowledge about your game with which you will be able to monitor evolutions, performances, history and much more data about your paddle matches.